Mold Busters
Got Mold? Who You Gonna Call?
Mold Removal that Doesn't Break the Bank
- or Your Walls!
Pure Maintenance dry fog is the miracle behind the demolition free mold remediation system used by Mold Busters. Mold can often be growing within walls, especially if you have had water leaking in your home. Many times this mold is not visible but can have a negative impact on your family's health. Our patented technology is affordable, effective and safe! Your entire home or business can be mold-free within a few hours! Learn about how dry fog technology has made Mold Busters the premier mold removal company.
We use the Pure Maintenance Patented Dry Fog System.  Watch this video and see the impact we can have on your air quality.
Schedule A Visit From Mold Busters
Our Patented Mold Removal Technology and Processes
Demolition Free Mold Removal
Don't demolish walls to kill mold.  Call us today for a free estimate and our technician will show you how we will eliminate the problem demolition free.

Kills Mold - Environmentally Safe
Once we kill the mold in your house, you may occupy your house or office again within a few hours.  Our EPA registered solution is non-toxic and will not harm humans or pets.
Same-Day Mold Remediation
In most cases, the mold in your house or office will be remediated in one day. Our mold-killing technology works as hard as our team.

Professionals, Trained to Kill Mold
Each team member is background, approved and trained to kill mold. Our employees reflect our award-winning mold removal brand!

Proven Mold Killing Technology
Our patented, mold-killing process is tested and recommended by the US Army Corps of Engineers as a safe and effective technology.

Award Winning Mold Remediation
We have won several awards in the mold remediation industry, including Home Advisor Best of 2018 for our category.
Schedule a Free Mold Removal Estimate Today
Contact Mold Busters for air quality tests, mold remediation, mold mitigation, mold removal, mold inspection and other disinfection services. Mold Busters is the most affordable mold remediation company!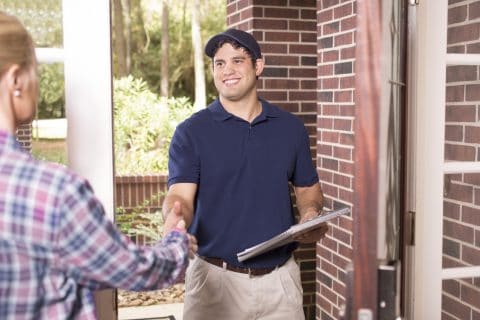 Relax. We're Experts In Mold Remediation.
Mold Spore Library
Visit the Mold Spore Library to learn what kind of side effects specific mold spores like black mold might have. Mold Busters provides mold cleanup services and mold removal for dangerous mold types.
We Kill Mold in Texas, South Carolina, Utah, Idaho, Oklahoma and New Mexico
Service Areas in TX, SC, UT, ID, OK & NM
At Mold Busters, we kill mold in Oklahoma and New Mexico in the major populated areas and have exclusive rights to the entire states of Oklahoma and New Mexico as well. Our teams work out of Oklahoma City and Tulsa in Oklahoma and Albuquerque in New Mexico. In Utah we Service Logan, Utah and Brigham City, and anybody that lives in Box Elder County, Cache County or Rich County.  For Idaho, we dry fog to kill mold, viruses, and bacteria in Pocatello, ID and surrounding counties, such as Bannock County, Franklin County, Cassia County, Bear Lake County, and Oneida County.
We drive from Norman to Edmond and McLoud to Stillwater to remediate mold and the surrounding areas around Oklahoma City. Our services extend into Tulsa and the surrounding areas--from Bixby to Owasso and from Wagoner to Cleveland.
In New Mexico, we kill mold along Interstate 25 and Interstate 40. From South Valley in Albuquerque to North Valley to Sandia Heights, and beyond. We offer our services in Santa Fe to kill mold and completely remediate it without breaking your walls.
Our Texas "home base" is located in Lewisville, TX and service the greater Dallas and Fort Worth and surrounding areas, to include other major cities like Plano, TX, Arlington, TX and Frisco, TX, as well as smaller cities like Allen, TX, McKinney and Carrolton, TX.
Our South Carolina location is in Greenville and services the Anderson-Greenville-Spartanburg MSA including surrounding counties and cities such as Blacksburg, SC, Anderon, SC, and Laurens, SC.