Mold & Air Quality Testing
Air Quality Tests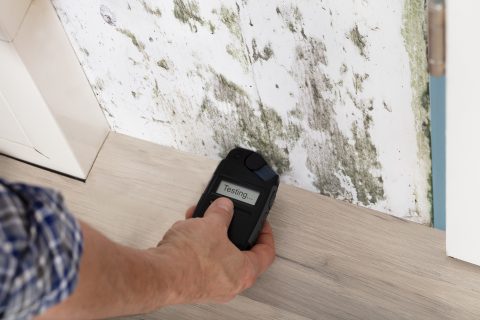 Mold Busters offers top of the line Air Quality Tests. Mold Busters is able to take samples of the air in your home to determine precise mold levels by pumping 75 liters of air from your home through a cassette filter.
That mold testing filter is then sent to an independent lab that analyzes the air sample. When they are finished they send their mold test report back. The mold test report gives information detailing the mold spore count in your home and what types of mold spores are in the home.
It is easy to tell if there is an issue once this report is compared with outside mold levels. The mold test done in your home should be similar or below outdoor mold testing averages in order for your home to be healthy.
The independent lab can take anywhere from 3 to 5 business days to complete their analysis.
Mold Busters mold testing saves you money by running fewer tests than other mold removal companies. They run a mold test in almost every room to determine where mold levels are the highest. For our process this number of tests can be unnecessary if you are using Mold Busters recommended whole home treatment.  Other companies charge anywhere from $250 to $500 for their mold testing. Mold Busters mold tests are just $150.00.
Mold Testing
While mold inspections are usually free. There is always a cost for mold tests processed by third-party labs.
Other companies charge anywhere from $250 to $600 for their mold testing. Mold Busters' mold tests are just $150.00.
Different Types of Testing
Moisture Tests
If you are still unsure of the source of moisture, we can test a location for the source of moisture causing mold growth.
Mold Tests (Swab Surface Tests)
These tests are exactly as they sound. They are conducted to determine the type of mold at a particular spot.  These types of tests may be required by property insurance companies if you intend to file an insurance claim to pay for your mold remediation.
Air Quality Tests
These tests are by far the most common.  This is because mold growth is often hidden, but its spores and toxins in the air you breathe will be ever-present.  It is breathing the spores that typically make people sick. This data showing what you are breathing day to day can be used for insurance claims, and for verifying a correlation between health symptoms you may be experiencing and the mold spore count measured per cubic meter of your indoor air.
When is Mold or Air Quality Testing Necessary?
This is a short but comprehensive list...
It is always a good idea to do a post mold remediation treatment test to ensure the job was done well.
When visible mold is not present, but you can smell it or feel mold is effecting your health.
A doctor or other healthcare provider would like evidence of elevated mold levels.
Real Estate Transactions where a buyer demands it.
Landlord/Tenant disputes about whether there is a mold problem.
You are curious, or personally interested in knowing how much your air quality has improved
The rare situation where mold is visible, but you can't figure out if it really is mold or where the moisture is coming from.
When the suspected mold is completely hidden
Your property insurance company requires it for an insurance claim
You want to be sure the mold remediation protocol is a fit with the type of mold (If you use our dry fog that is very effective mold remediation for every type of mold, then knowing the type is irrelevant, unless... you are trying to determine whether it is a type of mold that would justify you doing the mold removal yourself.
You live in Texas and you can see more than 25 square feet of visible mold, and want to have a certified mold assessor write up a custom protocol for an independent mold remediation company. This is compliance for the sake of compliance, but absolutely unnecessary. If you want to hire a separate company to perform and validate, it would be far more valuable to do that after we complete the remediation. With our 100% guarantee of satisfaction, we will fog again if the results show anything but acceptable levels of mold. (BTW - all air has some amount of mold in it)
If you fall into any of these categories and want an air quality test, give us a call, or click the button below to filll out a form and we will contact you.