Mold Removal & Mold Inspection Services in Pocatello
Professional Service with a Satisfaction Guarantee
Invite a Mold Specialist to your home or business in or near Pocatello, for a no-cost Mold Inspection. Our patented "Pure Maintenance Dry Fog System" can save you money by reducing labor, demolition, and reconstruction costs. There are now over 20,000 satisfied residential, government, and commercial customers nationwide, who have used our fog.
Get Rid of Mold in Hours Not Days
With Mold Busters Pocatello you denature mold and its mycotoxins. Not just where it is visible, but where it is hidden, throughout your entire home or business. And do it in as little as four hours.
This is possible through positive backpressure pushing our patented dry fog into every nook and cranny of your home, reaching places where no light, liquid or, other remediation method can. 
Note: Depending on the extent and duration of mold growth, mold can damage organic materials and even compromise the structure integrity of your home. Therefore demolition may be unavoidable.
Mold Remediation 10X, 100X, & Sometimes 1000X More Effective
For a 3,000 square foot home, the surfaces of your walls, furniture, floors, your HVAC, and all of your belongings can be tens of thousands of square feet of surface area.
We sterilize all of it!  And disinfect the air while we are at it. Not just for mold but for viruses and bacteria.  You get a "total home cleanse" at a price that is competitive with traditional mold remediation
Our dry fog particles are smaller than mold spores. This allows us to disinfect soft, porous surfaces like carpets and drapes. Not even Clorox bleach can claim this!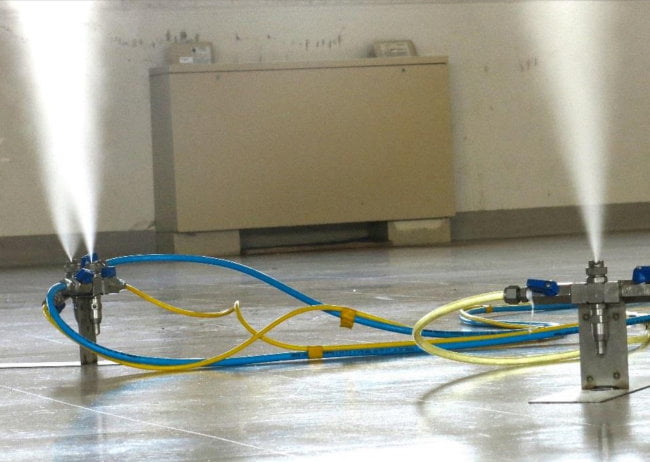 Prevent Future Mold Growth
After we Sterilize your home with our Instapure Dry Fog Solution.  You can, for a small additional fee use our EverPure Dry Fog Solution to protect your home for 90+ Days afterward.
The Army Corp of Engineers performed a study on our treatment at a military base and found that our dry fog prevented new mold growth for months after treatment.
Contact Us - Pocatello Idaho Mold Removal
Owners: Marci & Rene Roderer
Mold Busters Pocatello
3458 Golden Ave
Pocatello, ID 83204
(208) 268-0303
infoutahidaho@moldbustersusa.com
Mold Removal Services for the Greater Chubbuck, ID and Pocatello, ID areas.
The Low-Cost Leader.
Can be as Little as Half the Cost of Other Mold Remediation Companies
Complete a job in hours not the national average of 5 days
FDA approved as safe for water filtration and food-prep surfaces
10X to 1000X the surface area is treated vs. other solutions
Ongoing antimicrobial protection for 90 days after we leave
Kills all molds, viruses, and bacteria, including coronavirus
Sterilizes porous and Non-porous Surfaces including couches, HVAC, wood studs, sheetrock, crawlspaces, carpets, attic insulation, and every other difficult to reach areas
Exclusive rights to Pocatello and Southeastern Idaho for patented dry fog system
20,000+ Satisfied Residential and Commercial Customers Nationwide (includes other licensees with tech exclusivity in all 50 states)
100% of all customers receive lab-test verification that our services worked
We can be at your home within 24 hrs Mon-Sat
Areas We Service:
Mold Busters does Mold Removal and Pathogen Removal throughout Southeastern Idaho in Pocatello, Chubbuck, ID,  Preston, Malad, Burley, Montpelier and Lava Hot Springs.  We service Cassia County, Oneida County, Bannock County, Franklin County, and Bear Lake County.